4 Things to Do in Santorini When Summer Fades Away
Santorini is charming and inviting any time of the year, even during Fall or Winter. As the island is mostly a summer destination, the majority of service businesses are closed for winter but there is still a wealth of things to do and see in tranquil Santorini, beyond the vast crowds of summer.
Below, you can find out about the best of things to do in Santorini in when summer fades away:
Visit Akrotiri excavations and the Prehistoric museum in Fira which operate daily from 8am to 2pm, except Mondays.  Akrotiri is the excavation site of a Minoan Bronze Age settlement and thanks to its excellent state of preservation and the wealth of finds it has yielded, it is the most important prehistoric settlement found in the Eastern Mediterranean. The ruins of the City will transfer you thousands of years back in time, before the big eruption of the Volcano that destroyed half of the island.
---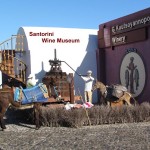 Visit Santorini wineries and experience the famous wine of Santorini in its fountains. The wineries in Santorini carry family tradition in wine making and produce award-winning wines, worldwide renown for their quality and their unique taste. Santorini wineries are open to the public for visiting, have a tour inside and wine-tasting as well.
---
Hiking is a unique experience in Santorini. Walk from Fira to Oia village along the natural path on the cliff side and enjoy breathtaking view. Wander in the volcanic serenity of Santorini and let your senses taste the amazing landscape, the view and the scent of the island to the maximum.
---
Day tour around the island, enjoy spectacular views and explore the most beautiful traditional villages with unique architecture such as Emporio, Megalochori, Pyrgos and Finikia Village. Visit the black sand beach and the famous red beach and feel the charm of the natural contrast as the sea pervades the volcanic landscape .
---
Above all, it's that breathtaking sunset. Any time of the year, it's always a delight!
It may sound unusual, but if tranquility at a dramatic landscape is what you seek, Santorini in winter is still the perfect destination for you.